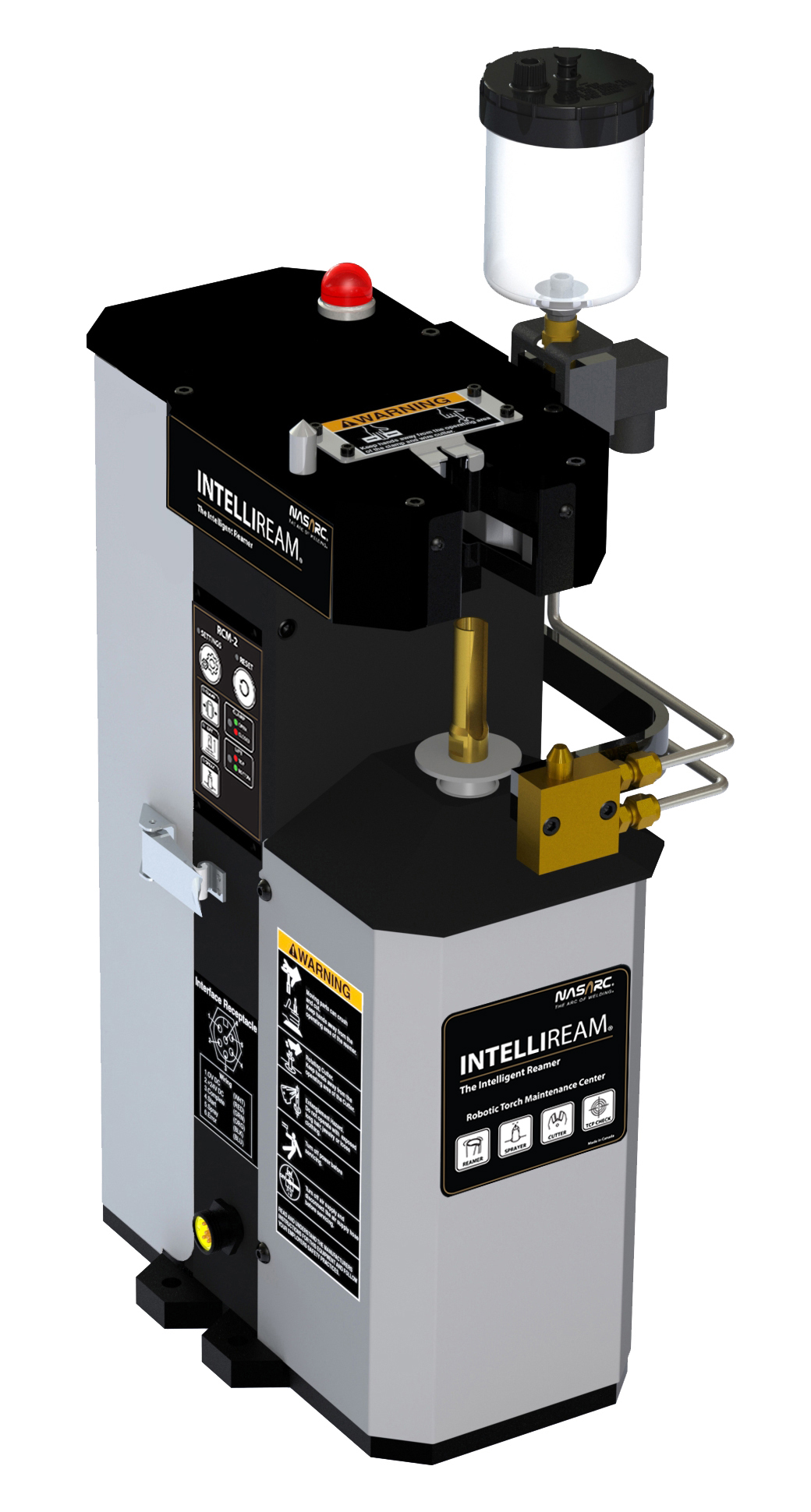 Click on the boxes below to view additional options available for this product. (Multiple options may be chosen).



*Optional Wire Cutter is shown on all pictures
robotic torch maintenance center
Extend the life of your robotic MIG torch and improve cycle time in your robotic welding cell with the next generation Intelliream® EIP. This robotic torch maintenance center systematically removes and limits spatter accumulation for enhanced productivity.
The ethernet enabled EIP model provides additional functionality including: enhanced command and diagnostic signals, direct access to process controls, and feature configuration, with the complete process managed by the internal CPU.
The Intelliream® EIP controller features a simple "No Trial - No Error"
programming technique and constant process monitoring.
Self-centering diamond grip design for positive traction on all nozzle sizes.
Complete enclosure seals out small particles and contaminants.
On-board diagnostics indicate position and fault codes for ease of troubleshooting.
A status light signals when the unit is operating and flashes diagnostic codes if a fault occurs.
Dry run and sensor override modes make setting up and troubleshooting easier.
The Intelliream® is the only reamer to offer an automatic retry feature.
De-ringer: A pilot reaming stroke removes the spatter ring that forms on the end of the weld nozzle.
Footprint Size: 25" H x 13" L x 10" W
Cutter Speed: 1100 RPM
Air Driven Motor: 0.60 HP
Wire Cutter Diameter: 0.030" - 1/16"
Air Supply: 80 PSI, 16.5 SCFM
Power Supply: 24 VDC, 0.8 A
01 High-strength coated reaming bit provides enhanced wear resistance. Precision machined to tight tolerances for optimized performance.
02 Vortex action sprayer delivers a radial spray pattern to uniformly coat the interior surface of the nozzle. Postflow logic enables self-cleaning.
03 Pinch off wire cutter is integrated in the clamp housing for easy and quick access, minimizing robot movement. (Optional)
04 Tapered cone provides a visual check to ensure positional accuracy of the TCP (tool center point).
The Intelliream® EIP controls the entire reaming process. Every aspect of the reaming cycle is commanded, monitored, and verified. The feedback signal to the robot is a true "complete" signal indicating that the entire sequence has been executed without error. Modern robotic systems with network capability have advantages over their earlier discrete I/O counterparts.
The connectivity of the Intelliream® EIP provides many of these advantages including:
• Ease of installation and seamless integration with controller.
• Troubleshooting via diagnostics at the robot or PLC.
• Expandable platform for feature upgrades.
• Single connection for multiple robots.
• Data acquisition of process counters and solenoid/cylinder activation timers.
EtherNet I/P: Distributed Intelligence
The Intelliream

®

EIP robotic torch maintenance center builds on the foundation of the button, actuator buttons, and indicator LEDs and the following advantages enabled by network connectivity.
Separate connections for control and solenoid power. The solenoid power may be tied into a safety circuit and interrupted in an emergency condition. The control connection supplies power to the node and sensors in order to maintain network communications.
More control data is available for ease of programming.
Advanced diagnostic and troubleshooting tools helps pinpoint issues and decrease downtime.
Consumable usage and replacement alerts (anti-spatter fluid, wire cutter, ream bit) assist with preventative maintenance efforts.
Add-on instruction (AOI) is available for Logix PLCs to cut integration time and costs.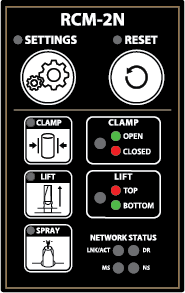 Extended user interface for enhanced functionality
Built-in web server user interface offers enhanced diagnostics, configuration, remote monitoring and analytics. Its responsive design is compatible with laptops, smart phones and tablets.
Interface: Remote monitoring of components, and machine operating state.
Settings: Remote operation of actuators, System configuration and troubleshooting.
Statistics: Cycle and operations timing and counts, Error log.
Email notification: Alarms, Consuming replacements, Performance metrics.
The following network communication protocols are available for the Intelliream® EIP: EtherNet/IP™ and Modbus TCP.
EtherNet/IP™ is a trademark of ODVA, Inc.
| | |
| --- | --- |
| INTELLIREAM® EIP | IRM030001-EIP |
| Spray System | |
| TCP check | |
Request any of the following options when ordering:
| | |
| --- | --- |
| Wire Cutter Module | IRW010099-00 |
| Nozzle Detect Assembly | IRE120099-02 |
| Spray Containment Assembly II | IRS020099-00 |
| Nozzle Gas Flow Sensor | IRE060099-00 |
| | |
| --- | --- |
| Reaming Bit, 1/2" | IRB010500-00 |
| Reaming Bit, 1/2" bottleneck | IRB010501-00 |
| Reaming Bit, 15.5mm | IRB01M155-00 |
| Reaming Bit, 5/8" | IRB020625-00 |
| Reaming Bit, 3/4" | IRB010750-00 |
| Robot control cable, 20ft | IRE010090-20 |
| Robot control cable, 30ft | IRE010090-30 |
| Robot control cable, 50ft | IRE010090-50 |
| Test Box | IRT020001-00 |
| Adapter Plate | IRF020002-01 |
| Floor Mount Stand | IRX010001-00 |
| Anti Spatter Bulk Feed | IRS010099-09 |