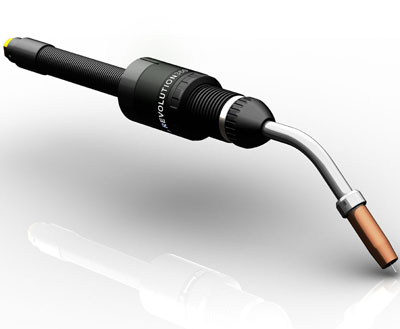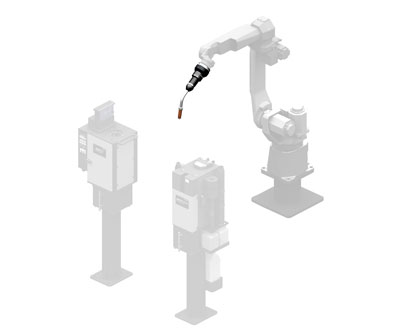 Infinite Rotation Robotic MIG Torch
Experience a revolution in robotic MIG welding with the new REVOLUTION360® Thru-Arm Torch.
Engineered for industrial applications, the REVOLUTION360® is extremely durable and thermally stable to provide a high-quality weld with every arc.
High conductivity rotary power connector (RPC):
Compact, low torque design ensures thermal stability at high current.
Innovative gooseneck connection:
Tool-less design provides consistent positive pressure and dual path current transfer that provides arc stability, resulting in high quality welds.
Uniquely designed cable stress management system maintains a longer operating life cycle.
Stainless steel gooseneck:
Designed to guarantee a repeatable and accurate tool center point (TCP), reducing downtime and touch ups.
High Quality Consumables:
Industry proven diffuser and nozzle geometry ensuring consistent gas flow. State-of-the-Art in house processing maintains critical operating tolerances extending service life.
350 Amps, 100% Duty Cycle, Mixed Gas (according to IEC 60974-7)


500 Amps, 60% Duty Cycle, Mixed Gas

Standard Torch angles: 22°, 45°
Contact Tip Wire Sizes: .030", .035", .040", .045", .052", .063"
Fanuc

®

, Motoman

®

, ABB

®

, Panasonic

®

, Kuka

®

, Kawasaki

®

, OTC Daihen

®

and others
Lincoln

®

, Miller

®

, Fronius

®

, Panasonic

®

, OTC Daihen

®

and others
Productivity
Reduce robot move time with faster reorientation of the sixth axis.
Reduce down-time with robust power cable.
Performance
The REVOLUTION360® rotary power connection maintains welding current throughout the welding process.
Excellent thermal performance.
Quality
Precision and accuracy of programmed welding positions.
Consistent high quality welds.
Safety
Complete isolation of welding current through the entire system.
Serviceability
Tool-less gooseneck replacement designed for ease of serviceability.
Dual disconnect at either end of power cable.
Snap-on nozzle is easy to remove and secures a consistent coupling when replaced.
Fully automated torch maintenance when integrated with complementary system
products from Nasarc Technologies®.
The REVOLUTION360

®

ADVANTAGE